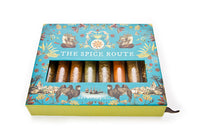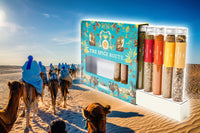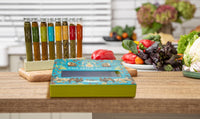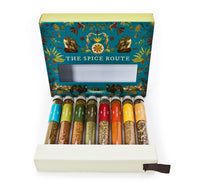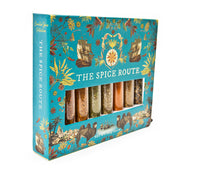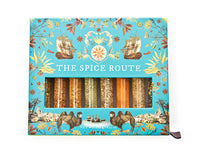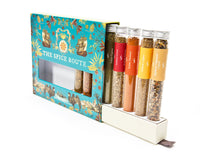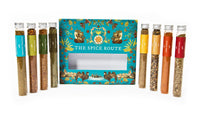 eat.art
Spice Route | Luxury Selection Around The World Spice Set | Includes Own Spice Rack Stand
GET EXCITED FOR TASTY SPICES AND LET YOUR TASTE-BUDS TRAVEL THE WORLD - Create hassle free mouth-watering grilled meals any day of the week, tantalize those taste-buds and be prepared for compliments by adding that special taste to any dish.
This set of 8 wonderful spices range from a subtle delicacy to savoury fiery punch from around the world to give you a unique culinary experience. 
This unique collection includes some very popular spices:
ARBAIAN ZA'ATAR– A middle Eastern blend of herbs, ground sumac and roasted sesame seeds, it brings a delicious nutty, earthy flavour.  Scrumptious when added to dips for pita bread and can be used to encrust meats and vegetables before grilling or roasting.
INDIAN TANDOORI – This spice is used to flavour marinated meat or chicken as used in the traditional 'Indian Tandoor' intensely hot oven. Skewer yogurt marinaded meat and roast over coals or in a hot oven to enjoy the smoky flavours.
CHINESE 5 SPICE – This spice blend encompasses the flavours of sweet, sour, bitter, umami and salty.  Popularly, used in Chinese and Asian cuisines, this mix would be used more creatively as a spice rub for meat and added to a stir-fried vegetable dish. Use conservatively due to its dominant flavours.
JAPANESE TOGARASHI 7 SPICE - Sprinkle over salmon tartar to give it a zesty kick, or use as a garnish for Japanese soups, salads and noodle dishes. Create a delicious marinade with this spice, soy sauce, sake and sugar coat chicken kebabs for traditional yakitori. Use to season spicy tuna filling for maki or hand rolls.
ARGENTINIAM CHIMICHURRI - A Herbaceous blend of dried herbs and spices that make up famed Argentina Chimichurri sauce which is an essential part an Argentinian parrilla or barbecued mixed grill. It works well as a marinade and also gives a punch of flavour to vegetables.
CARIBBEAN JERK – a Jamaican Caribbean aromatic blend that will ensure a festive fiery flavour outcome with its perfect balance of sweet exotic heat, great on chicken, pork and vegetables.
LOUISIANA CAJUN – The wonderful, wholesome flavours of 'Deep South' Louisiana come to life in this spicy rustic seasoning.  Use it to jazz up chicken, fish and shrimp or to create jambalaya, gumbo or signature blackened meat and fish dishes.
ITALIAN CAPRESE – Synonymous to the beautiful Mediterranean regions and cuisine, this blend adds vibrancy and freshness to any dish.  Create a traditional caprese salad or fish of the day, sprinkled with this delightful spice and dress with olive oil and balsamic vinegar, in true Mediterranean style.
RECIPE IDEAS PRINTED ON THE BOX - Each spice comes with simple food pairing ideas to get the best results and set you on your way. Enjoy!
EXPECT TO REVOLUTIONIZE THE WAY YOU COOK!
100% NATURAL GOODNESS - No artificial flavourings and colourants. No added MSG or preservatives. Non-irradiated and non-GMO. Suitable for Vegans and Vegetarians.