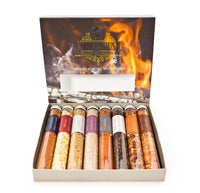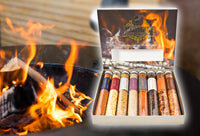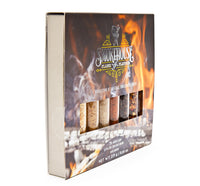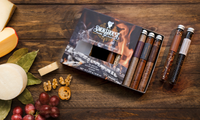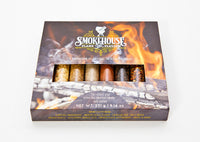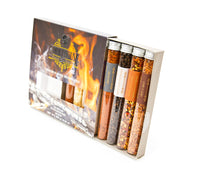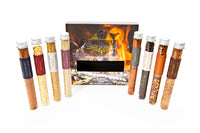 eat.art
Smokehouse Flame & Flavour | Collection of 8 Smoked Spices
PREMIUM CONNOISSEUR SMOKE HOUSE FLAME & FLAVOUR SPICE Sweet, savoury and smoked giving deliciously subtle undertones or a more rounded infusion of flavour.  Enhance your choice of cuisine with our Smokehouse Flame and Flavour collection, filled with hearty flavour, bold taste and vibrant aromas. 

Our Smokehouse Flame and Flavour gift set is a beautiful slide out tray, making it a unique gourmet gift for someone who is a fan of smoked spice.
GET EXCITED FOR TASTY SMOKED SPICES - Create hassle free mouth-watering smoky meals any day of the week, tantalize those taste-buds and be prepared for compliments by adding that special smoky taste to any dish.
This unique collection of original smokehouse spices includes:
Carolina Smokehouse Spice – A Southern inspired blend with a paprika punch with subtle smoky undertones perfect for red meats and chicken on the grill or barbecue
Smoked Garlic Spice – Garlic sweetens when cooked and with heady notes of smoke this gives depth to any dish and compliments Italian flare such as pizza and pasta
Holy Smoke Spice – Sweet, savoury and smoky …the most flavoursome aromatic barbecue rub blend great on sticky ribs
Applewood Smoked Salt – Cold smoked the traditional artisanal way and adds earthy smoked flavour and aroma to any dish
Iberican Rub – The smokiness of paprika provides an earthy heat coupled with thyme and garlic and compliments the rich flavours of pork
Smoked Black Peppercorns – Use as a finishing spice over a variety of dishes to add a smoky taste and complexity
Smoked Chilli Flakes – Provides a burst of heat with subtle earthy undertones of smoke and wood infused with flavour
Sweet and Smoky Spice – This deliciously smoky blend provides an interesting addition to sticky sauces such as sweet chilli relish or pineapple
RECIPE IDEAS PRINTED ON THE BOX - each smoked spice comes with simple food pairing ideas to get the best results and set you on your way. Enjoy!
EXPECT TO REVOLUTIONISE THE WAY YOU COOK!
100% NATURAL GOODNESS - No artificial flavourings and colourants. No added MSG or preservatives. Non-irradiated and non-GMO. Suitable for Vegans and Vegetarians.