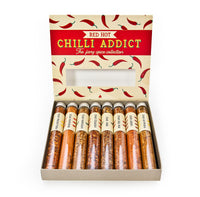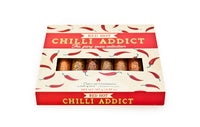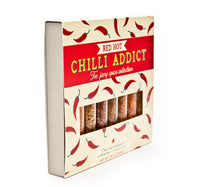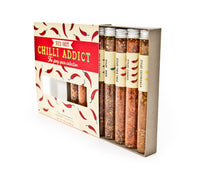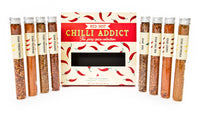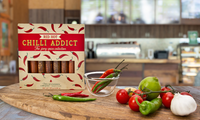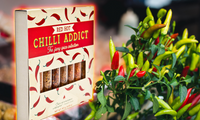 eat.art
Red Hot Chilli Addict | Collection of 8 Fiery Spices
 CHILLI-HEADS GET EXCITED FOR THESE CHILLI VARIETIES – If you are really into chillies you desire not only the delightful heat but the unusual flavours of different chilli peppers from around the world to add colour, flavour, visual appeal and of course heat and depth to many cuisines
This unique spice set of eight chillies includes some very popular spices including:
Pipelchuma Spice– Traditionally a garlic and chilli-based spice blend from Libya making it a spice delicacy that adds vibrant flavour on anything from breakfast to dinner
Sriracha Spice – A Thailand pepper blend that makes for a nice twist for meats and even soups, with a fantastic complex flavour profile
Louisiana Grill – The origin of this Cajun spice is in the 'Deep South' in America, spicy and rustic, allow the spice to blacken when grilling your meats or corn on the barbecue
Chipotle Spice – a Latin American exotic chilli blend of smoked peppers that gives peppery depth to any dish
Jerk Spice – a Jamaican Caribbean blend that will ensure a festive flavour outcome with its perfect balance of sweet exotic heat, great on chicken and vegetables
Piri-Piri Spice – This spicy East-African and Portuguese inspired blend is created using the devilish African Birds Eye Chilli perfectly suited to chicken cooked over a flame, or adding fiery flavour to steak or prawns
Ghost Spice– For the hard-core chilli enthusiasts, beyond hot and should be consumed delicately, but it is great for hot chicken wings
Vindaloo Spice – an Indian classic that that is known as the King of Curries, fiery hot and full of flavour making a flavoursome curry
EXPECT TO REVOLUTIONISE THE WAY YOU COOK!
100% NATURAL GOODNESS - No artificial flavourings and colourants. No added MSG or preservatives. Non-irradiated and non-GMO. Suitable for Vegans and Vegetarians.