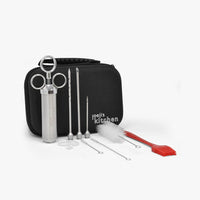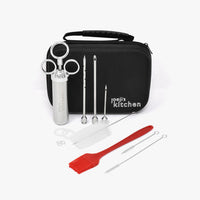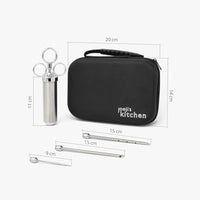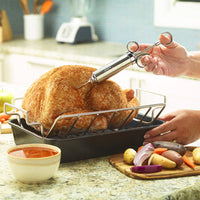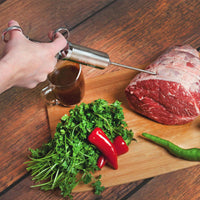 Spice Inspired
Meat Injector Syringe Kit
Time for juicy meats packed with flavour? Have you tried injecting your meats with delicious marinades to give it an intense flavour? 
Our food injector syringe allows you to reduce the time for preparing meat. While traditional methods require leaving to marinade overnight, you can get juicy & intensely flavoured beef, pork, chicken, or turkey in just 1-2 hours.
Precise Marinade Injector - Our stainless steel basting syringe can easily pierce through meat cuts. This meat curing kit includes 3 interchangeable needles of varied sizes & functions, all clog-resistant against liquid & finely minced bbq marinade.
Easy to Use - This meat syringe can be assembled & dismantled quickly. With an ergonomic handle, it offers a comfortable grip & easy pressure control.
This meat injector kit has 5 replacement O rings to prevent leakage & 3 brushes for convenient cleanups. Contains a stainless steel cooking syringe & silicone basting brush for meat which are built to last with its anti-rust & heat resistant properties.
All food-safe inclusions can be securely stored in the EVA travel case.