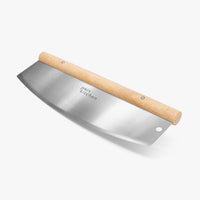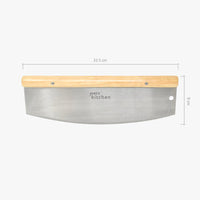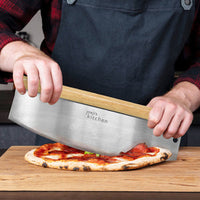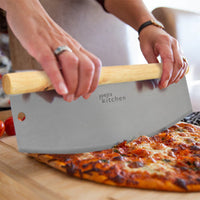 Spice Inspired
Large Pizza Cutter Rocker Stainless Steel 33.5cm
Labour-Saving Pizza Slicer - Wheel pizza cutters are often impractical, flimsy, & inefficiently distribute force. A pizza cutter rocker's blade arc design concentrates force so you can snap through even thick crusts with a single firm push.
Razor Sharp Pizza Knife - This pizza rocker cutter's stainless steel blade can effortlessly cut pizza without pushing toppings aside. Its thickened pizza blade is resistant to rust or deformation & offers easy cleanups for long-lasting sharpness.
Solid Wooden Handle - This modified mezzaluna knife has a smooth rounded wood handle, enabling a firm but comfortable grip. Unlike a disc pizza cutter knife, it has no moving parts that can break & is secured with rivets to prevent it from loosening.
Not Just for Pizza - This multi-functional chopper can perfectly cut more than a pizza slice. It's a must-have kitchenware that's great as a herb chopper mezzaluna, bread rocker knife, & multi-functional cutter for fruits, vegetables, chocolate & more.