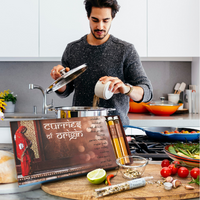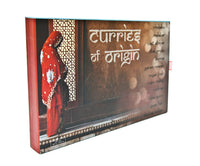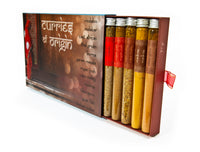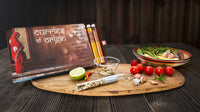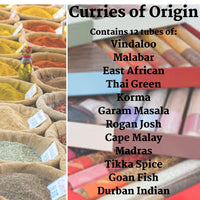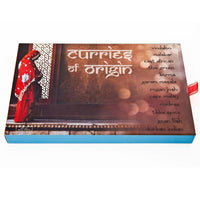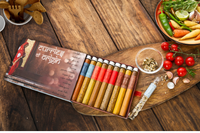 eat.art
Curries of Origin | Collection of 12 Curries from around the World
FOR THE CURRY CONNOISSEUR OR ENTHUSIAST. Be inspired with curries from around the world bringing delicious warm flavours that are traditional and unique to the specific culture it represents.
This unique selection box of 12 curry seasonings includes some very popular Indian spices, African and Asian curries including:

Vindaloo – A fiery hot curry with roots in Portuguese cuisine known as King of Curries 
Durban Indian Curry – This authentic curry is famed for its complex piquancy and aroma influenced by Indian migrants 150 year ago, packed with traditional flavour 
East African Curry – Coconut-based chicken curries with Arabic, Indian and African influence, smoky flavours infused by char-grilling the chicken before adding to the curry base
Cape Malay Curry – A delicious fusion of Asian and European tastes with a sweet and spicy mix of meat, fruit and spices using a fragrant blend of 13 exotic spices
Malabar – Rich in flavour with lingering aromas from the East
Thai Green – Very fragrant and rich in colour, boasting strong lime and ginger overtones
Korma – Defined by its decadent creamy sauces and delicate spices, the ultimate comfort food with an Eastern twist
Garam Masala – Hot mixture of a blend of pungent ground spices packed with flavour
Rogan Josh - A bold rich red colour is the signature of the dish with a hint of heat
Madras – This spicy piquant curry is known for its fiery heat, cumin and coriander resonate in this intense spice blend
Tikka – Colourful exotic fragrant spices frequently used in marinating meat for the BBQ
Goan Fish – Influences from Portuguese, Muslim and Hindi making it an exotic mix of truly tasty cuisine, incomplete without seafood
CURRY RECIPES PRINTED ON THE BOX AND RECIPE INSERT - each curry seasoning comes with recipe instructions to get the best authentic results and set you on your way in creating flavoursome curries. 
EXPECT TO REVOLUTIONISE THE WAY YOU COOK!
100% NATURAL GOODNESS - No artificial flavourings and colourants. No added MSG or preservatives. Non-irradiated and non-GMO. Suitable for Vegans and Vegetarians.