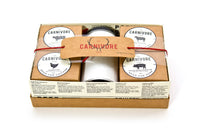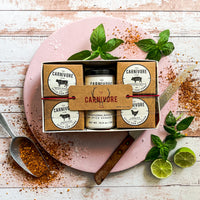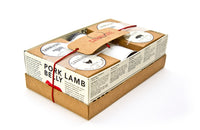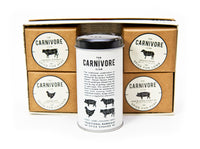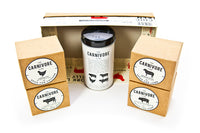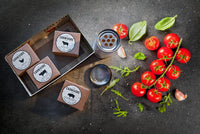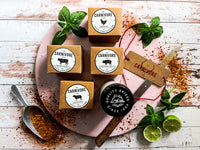 eat.art
Carnivore Club | Meat Spice Gift Set | Roasts & BBQ
GET EXCITED FOR TASTY SPICE BLENDS Create hassle free mouth-watering meals any day of the week, tantalise those taste-buds and be prepared for compliments, nice job chef! We have all the meats covered: beef, lamb, pork and chicken and great as rubs on the BBQ or for your Sunday roast.
HANDY SPICE SHAKER INCLUDED with a Multi-purpose seasoning that can be used on any meat or vegetable! 
This unique spice set includes some very popular spices including:
Argentinian Chimichurri for Beef - Traditionally, chimichurri is served with grilled meats as part of the Argentinian asado (or barbecue). It is absolutely delicious with grilled steaks and grilled chorizo sausage and has a distinctive garlicky sauce. Super flavourful, with garlic, parsley, red pepper flakes, oregano, and vinegar, perfect for barbecued meats and marinades.
Moroccan Harissa for Lamb – this is a fiery and garlicky North African spice and it has a deeper flavour than just chilli – you get a spicy hit backed by garlic and lemon, including roasted red peppers, hot chilli peppers with herbs such coriander seeds and caraway. Makes a delicious slow cooked Lamb roast or delicious on steaks or meatballs. 
Caribbean Jerk Spice for Chicken – a blend that will ensure a festive flavour outcome with its perfect balance of sweet exotic heat, great on chicken and any other meat. Jerk refers to a style of cooking in which the main ingredient, mostly chicken is coated in spices and slow-cooked over a fire or grill; the resulting smoke is key to the flavour of the dish. Whilst BBQ tends to be sweet and smoky, jerk seasoning incorporates savoury and sour flavours followed by a spicy peppery kick from the scotch bonnet peppers
Sweet & Smokey Mustard for Pork – the perfect companion for pork, delicious, smoky, sweet, lightly spiced with the mustard doing its stunning job of rounding out the zesty flavours.  Succulent, tender, melt-in-the-mouth pork either as a slow cooked roast or on the barbecue!
EXPECT TO REVOLUTIONISE THE WAY YOU COOK!
100% NATURAL GOODNESS - No artificial flavourings and colourants. No added MSG or preservatives. Non-irradiated and non-GMO. Suitable for Vegans and Vegetarians.