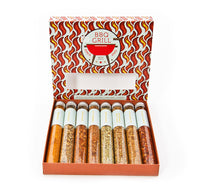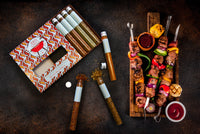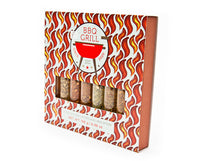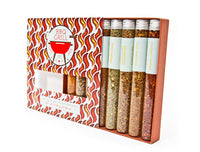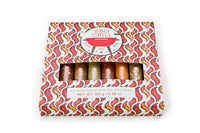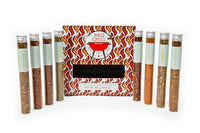 eat.art
BBQ Grill Rub Kit | 8 Unique Barbecue Spices | Meat Rubs
GET EXCITED FOR TASTY BBQ SPICES Create hassle free mouth-watering grilled meals any day of the week, tantalize those taste-buds and be prepared for compliments by adding that special taste to any BBQ.
If you are looking for spices that will delight your taste-buds, then you have come to the right place!
This unique collection of barbecue grill includes some very popular spices:

TEXAN BBQ - Dry rub that is sweet and spicy perfect for all your grilling and barbecue needs! The sweet brown sugar mingled with the peppery chilli powder gives the best for both worlds, adding a wonderful layer of sweetness that compliments meats while they cook low and slow.
PEPPERCRUST – Steak au poivre, or pepper steak, is a French dish that consists of a fillet mignon, coated with cracked peppercorns that form a crust on the steak when cooked and provide a pungent but complements the rich flavour of the high-quality beef.
LAMB HARISSA - is the ground spice blend of the spicy, earthy North African smoked chilli peppers that give quiet a kick and great as a dry rub on meats or use in tacos, tagines, curries, or even tofu.
LEMON & HERB -Perfect for baked, broiled or grilled fish and chicken and delicious on vegetables: stir-fried, steamed, roasted or grilled. It is so versatile and a time saver in the kitchen, also use in marinades, salad dressings and dips.
CHIMICHURRI STEAKHOUSE – This spice blend makes the most delicious versatile sauce traditionally served with grilled steak and an essential part of an Argentinian parrillada or barbecued mixed grill. It works well as a marinade and also gives a punch of flavour to vegetables.
LOUISIANA GRILL – The wonderful, wholesome flavours of 'Deep South' Louisiana come to life in this spicy rustic seasoning.  Use it to jazz up chicken, fish and shrimp or to create jambalaya, gumbo or signature blackened meat and fish dishes.
SMOKEY CHIPOTLE – a Latin American exotic chilli blend of smoked peppers that gives peppery depth to any dish
CARIBBEAN JERK – a Jamaican Caribbean blend that will ensure a festive fiery flavour outcome with its perfect balance of sweet exotic heat, great on chicken and vegetables
RECIPE IDEAS PRINTED ON THE BOX - Each spice comes with simple food pairing ideas to get the best results and set you on your way. Enjoy!
EXPECT TO REVOLUTIONIZE THE WAY YOU COOK!
100% NATURAL GOODNESS - No artificial flavourings and colourants. No added MSG or preservatives. Non-irradiated and non-GMO. Suitable for Vegans and Vegetarians.