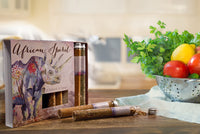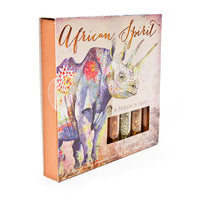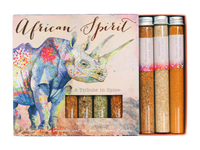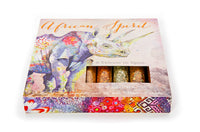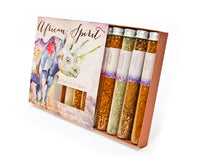 eat.art
African Spirit | Collection of 8 Traditional African Spices
PREMIUM CONNOISSEUR AFRICAN SPIRIT SPICE Colourful as Africa, unusual and different traditional spices for African dishes.  Enhance your choice of cultural cuisine with hearty flavour, bold taste and vibrant aromas from our African spices collection.

This unique collection of original African spices seasoning set includes some very popular spices including:
Durban Curry – This authentic curry is famed for its complex piquancy and aroma influenced by Indian migrants 150 year ago, packed with traditional flavour
Jozi Chakalaka –A uniquely South African spice mix used to flavour a sauce or relish served with grilled or stewed meat
Savannah Grasslands – The flavours of tangy lemon and wild garlic together with the freshness of parsley are true African favourites and add zest to any dish
Ethiopian Berbere – A traditionally fiery and vibrant all-purpose spice blend considered a flavouring foundation in North-African cuisine
Tanzanian Pilau – Incorporates five distinct spices with a dominant clove undertone to produce hearty one pot meals or Pilau Masala rice dishes
Kenyan Kuku Paka Curry – This is used in a coconut-based chicken curry with Arabic, Indian and African influences characterised by smoky flavours infused by char-grilling the chicken before adding to the coconut curry base
Mozambiquan Peri Peri– This spicy East-African and Portuguese inspired blend is created using the devilish African Birds Eye Chilli perfectly suited to poultry cooked over a flame
Kalahari Smoke Salt – This desert salt is a natural unrefined sun-dried salt from an ancient salt pan and then naturally smoked to create a decadent smoky flavour profile
RECIPE IDEAS PRINTED ON THE BOX - each spice comes with a simple food pairing ideas to get the best results and set you on your way.
EXPECT TO REVOLUTIONISE THE WAY YOU COOK!
100% NATURAL GOODNESS - No artificial flavourings and colourants. No added MSG or preservatives. Non-irradiated and non-GMO. Suitable for Vegans and Vegetarians.