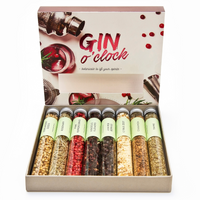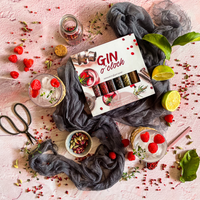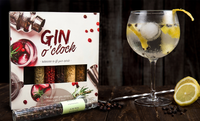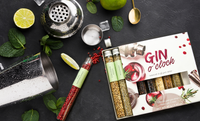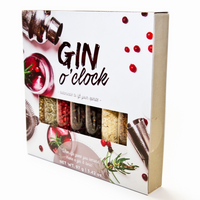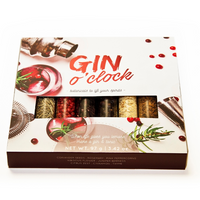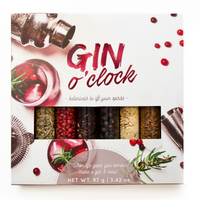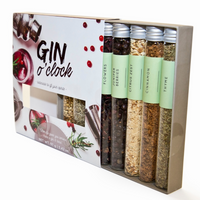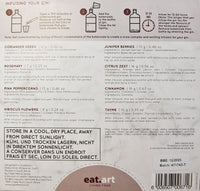 eat.art
Gin O Clock Gin Gift Set | Make Your Own Flavoured Gin | Infuse Your Craft Gin And Cocktails At Home | 8 Botanical Ingredients
If you are looking for the Perfect Gin Gift you have come to the right place!

YOUR SIGNATURE CRAFT GIN CREATED BY YOU - by adding fresh delicious botanicals to non-flavoured gin, infuse for two days to be rewarded with a unique gin that you can say is yours, become quiet the mixologist with these non-GMO ethically sourced spices that enhance the flavours.
EXPLORE AND DISCOVER YOUR GIN INFUSIONS with this premium selection box that is perfect for gin lovers who enjoy experimenting with flavours and adding the wow factor that leaves a lasting impression with friends and family, making it a great gin present for any special occasion.
LIFT YOUR SPIRITS AND ADD SOME PIZAZZ TO COCKTAILS as this collection of spices is not just for gin and tonic but for inspiration on any alcoholic drink, making it an essential ingredient and garnish selection in any home bar.
FRESH FLAVOUR AND DELICIOUSIOUS – This gin gift set of botanicals is stored in glass tubes to retain the fresh flavours and aromas and, just like top mixologists only use the best ingredients, you will also be able to delight your taste-buds with full-flavoured gins and instructions provided.
GIN O CLOCK TIME OR IS IT COCKTAIL HOUR – presented in a gorgeous slide carton that is ready to go as a gin gift for women and men, adding a bit of flair to any celebration with your best friends, couples, family and hen dos.
Selection of Botanicals contains:
Coriander seeds: Warm, nutty flavour.
Rosemary: Herbaceous, typical of rosemary.
Pink peppercorns: Aromatic, peppery flavour.
Hibiscus flowers: Acidic, tart berry flavour.
Juniper berries: Herbaceous, fresh flavour. Typical of juniper berries.
Citrus zest: fresh, citrusy and tangy – typical of citrus.
Cinnamon: Warm, sweet woody notes.
Thyme: Herbaceous flavour. Typical of thyme.
100% NATURAL GOODNESS - No artificial flavourings and colourants. No added MSG or preservatives. Non-irradiated and non-GMO. Suitable for Vegans and Vegetarians.