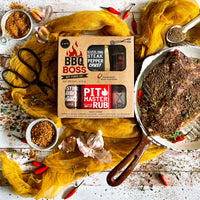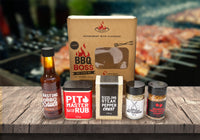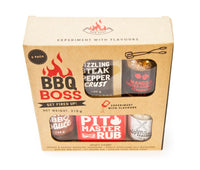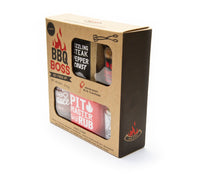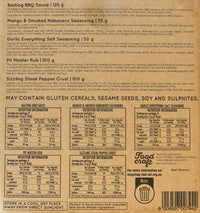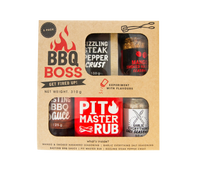 Spice Inspired
BBQ Boss Seasoning Set | Coffee And Paprika Pit Master Rub | BBQ Sauce and More
This BBQ selection box will knock your socks off with flavour with this unusual selection of coffee rubs, chilli blends, bbq basting sauces and more.....
COFFEE IS NOT JUST FOR BREAKFAST ANYMORE - Coffee is also a spice that adds a rich, deep, earthy flavour to food and very versatile, especially red meats like lamb, duck, beef and chicken thighs and adds the wow factor sprinkled over roasted potatoes or butternut. Coffee along with paprika delivers a savoury and slightly spicy earthy flavour.
COFFEE ON MY MEAT, WHATS GOING ON – Pit Master Coffee Rub creates an incredible crust on whichever meat you are using it for, sears beautifully and have the rich flavours imparted into the meat without overpowering and due to its acidity level also acts a meat tenderizer – double winner.
THEY SAY OPPOSITES ATTRACT that is why Mango and Habanero chilli make for the perfect sweet and spicy combination, a Caribbean spicy festival of flavour. Habanero chilli peppers has between 100,000 and 350,000 Scoville Heat Units—the definitive measurement of spiciness and the mango sweetness makes it more tolerable.
STEAKHOUSE SENSATION YOUR OWN SIZZLING STEAK PEPPER CRUST – Steak au poivre is a French dish that consists of a fillet mignon, coated with cracked peppercorns that form a crust on the steak when cooked and complements the rich flavour of any tender boneless cut of steak.
 BBQ BOSS BEST BBQ BASTING SAUCE that is completely inspired by the fiery pit masters down in Americas South, intense and caramelising, tangy and sweet, this BBQ sauce brings the South straight to your barbecue, hello flavour.
 GARLIC LOVERS HEADLINER– Everything salt seasoning packed with garlic and happily the centre of attention in any dish and is perfect for fish, chicken, meat, sauces and vegetables or anything you fancy that calls for garlic